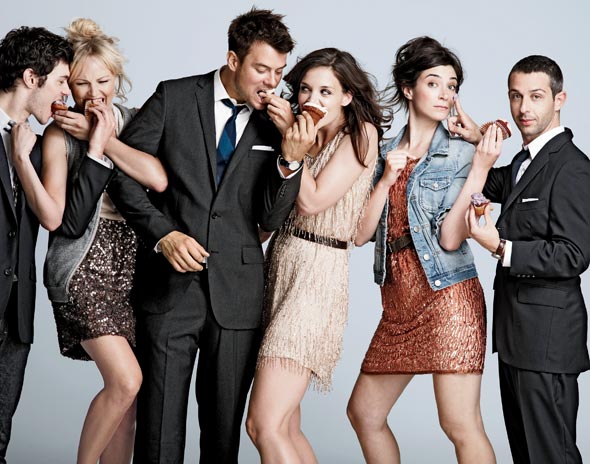 Yes, I know this film is two years old. It's been on my list but I never got around to watching it. Lo and behold what happened?! I came across it on the movie channel. I mean have you seen the cast? The film features Elijah Wood, Adam Brody, Katie Holmes, Josh Duhamel and a young Diana Agron how could i not watch it?! I knew I was not going to be disappointed. Guess what? I wasn't.
The film centers around a group of friends who met while they were at university and got the nickname The Romantics after the historic era. (Which by the way is what intrigued me to the film in the first place) They get together after a few years in the real world. They get together for a wedding and inevitably brings the baggage that close friendships can bring. The relationships that changed over time, who hooked up with who, where they are in life ect ect. Add in the mix of an intense love triangle involving Josh Duhmel and Katie Holmes characters (One of them is suppose to get married) Staying true to the name The Romantics there is music, passages and scenery from this era (most of the film is shot in the wonderful country side)
The acting is great as I mentioned the cast. Personally, I think they were all good for the role even Elijah Wood who took on the role with a bad boy edgeyness.
The film is based on a book written by Galt Niederhoffer which I have just added to my already long lisst of books to read :).
Here's the trailer, enjoy