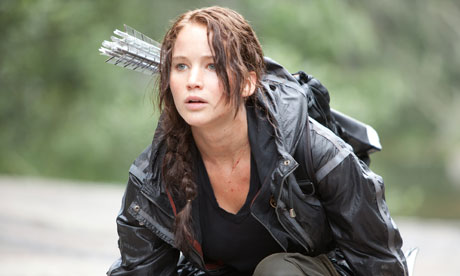 So, i finally got around to going to watch The Hunger Games. I had been wanting to go watch the film since it came out so needless to say i was looking forward to it. The film did not disappoint. It had everything in it from love to action to being thrilling.
The story is about a fictional world where 12 children are made to compete in competition in jungle like surroundings with very little surroundings (think reality TV meets Lords of the Flies). It follows Katniss Everdeen played by the beautiful Jennifer Lawrence through her life in this competition and the struggle for survival while her every move is move is being watched. It shows how she has has to put on a show and watch people laugh and put on a show for them when in actual fact there is a lot of troubles facing her and the survival skills which she needs as there is every chance she could die during the show which is called the hunger games where only one person lives, the rest die.
The film is based on a book, which is on my reading list and should be on yours too. What i love about the film is that it had a strong female lead. Katniss, has be this strong level headed teenager who has spent her life fighting to survive and then finds herself having to do the same on TV. While she is fighting in the competition the fact she is a good person still shines through. Jennifer Lawrence does an amazing job playing Katniss and was definitely the right choice for the role.
Josh Hutcherson plays Peeta, another competitor from Katniss district. Again his acting is commended, he is put his paces doing scenes which are emotional to doing acting scenes again. I would definately encourage you to watch it if you haven't already.
'Welcome to the Hunger Games, may the odds be in your favor'